From Mick Landmann:
As the penetration of smartphones and all things mobile into our lives continues exponentially (In 2011, according to Stanley Morgan, the combined shipments of smartphones and tablet computers are forecast to exceed those of personal computers), the use of those devices for teaching and learning within and without our schools is not keeping pace.
However, we at Digital Education Brighton (DEB) are doing our bit to encourage and support the use of these devices for education. At our inaugural meeting (June 2011), we established a project team to start working with teachers in schools specifically utilising pupils own smartphones in lessons. On the eve of our next monthly meeting to be held at the impressive Crew Club at Whitehawk.
I am happy to be able to report that we now have three projects, two with local schools and one with the Self Managed Learning Centre, that will be up and running very early in the new year (2012).
The first of these projects that starts next week is to look at some community projects pupils at Blatchington Mill school are involved in with a view to establishing how they might utilise QR codes. A QR Code (it stands for "Quick Response") is a cell phone readable bar code that can store website URL's, plain text, phone numbers, email addresses and pretty much any other alphanumeric data.
Sue Korman and I will be holding a preliminary session with the pupils involved next week (12th Dec) to explain the project and start generating some ideas. The full project will then commence on 16th January 2012. If you scan the QR code at the top of this blog post you will be taken to a little game.
The second project is with a school in Hassocks. We will be working with an art teacher and two of her classes to encourage the pupils to use their smartphones in class and elsewhere to record their work and each create a sort of e-portfolio. The project will make use of smartphone capabilities to record video, take photographs, record audio etc..
I have met the teacher involved (who lives in Brighton) and will be meeting her again before the end of the year with a view to kicking off the project proper as soon as possible in the new year.
The third project is with a young woman who attends the Self Managed Learning Centre at Brighton Youth Centre on Edward Street and wants to develop her photography skills.  The idea is to undertake a project that is specifically about mobile and taking photo's 'on the go' explicitly with a mobile phone. Because the young woman in question does not own an appropriate smartphone for the project we will be loaning her one from the 'Smartphone repository' that is being administered for DEB by Wired Sussex.
Did you know that in 2011, the combined shipments of smart phones and tablet computers are forecast to exceed those of personal computers (Morgan Stanley)?
Did you also know that according to education experts in organisations such as BECTA and Futurlab, Smartphones – mobile phones that offer internet access and apps – have been proven to help children maximise their learning from the age of nine?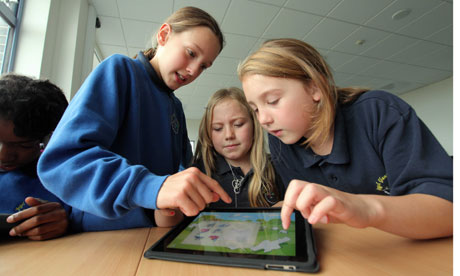 According to a recent article in The Guardian about the use of smartphones in the classroom, 'The National Association of Advisors for Computers in Education, which includes teachers, technologists and policymakers, and cites research that shows the devices(smartphones) can have a "high impact" on students' learning' ….in many schools, the majority of pupils own a smartphone'.
Despite this potential for learning, most schools ban smartphones, indeed all mobiles, in the classroom, partially at least through fear of the disruption of pupils 'texting' their friends during lessons. But, most pupils ignore the ban and do text their friends, albeit surreptitiously, from under the desk, something they are very adept at.
Surely better to insist pupils openly bring their phones with them, and place them on the desk in full view thus allowing the teacher to ensure they are not in use and maintain the control they fear losing.
But better than that it will allow the use of the smartphones, which after all are much more than mere phones, are powerful computers in fact with very sophisticated and varied functionality, to be used for learning. This is a resource that schools in these particularly austere times can use for free without even any associated maintenance or upgrade costs.
To help teachers take advantage of this and allay their fears of disruption, we are working with schools to develop and run lessons that actively use the facilities available on their pupils smartphones. This is a sort of triple whammy by dealing with the problem of disruption (phones visible, on the desk not under it), utilising technology that is familiar to the pupils and proven to enhance learning, and providing free resources.
But, an objection that arises is that not all pupils can afford smartphones (although their price is dropping rapidly and numbers who do have them rising exponentially) and so there is a potential 'digital divide' which disadvantages those pupils from poorer families.
The Guardian article (referred to above) suggests that schools could buy some smartphones, using the pupil premium, for pupils who were poor enough not to have one. At Digital Education Brighton we have a much better idea that leaves the pupil premium alone to be spent on other things.
The 'Smartphone for Schools Dropoff' will just collect donated smartphones that are no longer in use by their owners. For example, many of us have monthly contracts that allow us periodically to upgrade our phones for free. The discarded phones are often simply put in a drawer never to see the light of day again. Through this scheme, phones can be put to good use in schools and other learning organisations to enhance our children's education.
The idea is simply that the smartphones are loaned to schools, on demand, for specific learning projectswhere some of the pupils participating do not own a smartphone themselves. We are, therefore, encouraging both individuals and organisations to donate surplus smartphones of any make and type to the 'Smartphones for Schools Drop-Off' at Wired Sussex.
If you've any questions about the scheme, give one of the Wired Sussex team a ring on 01273 692 888. Further details of 'smartphones in the classroom' projects organised by DEB will be posted here as they occur.